Garmin Forerunner 405 GPS Watch with ANT Stick and Heart Rate Monitor Review
Our Verdict: A great watch which is seriously good value for money now that its not the number one Garmin model. While the bezel face has some marmite qualities, you either love it or hate it, we think any weaknesses in this area can be easily managed and is more than offset by the functions available.
Ranking at number 3 in our list of the best GPS watches on the market today. The Garmin Forerunner 405 GPS watch with Heart Rate Monitor and USB Ant Stick, doesn't have quite as many features as our number one watch, the Forerunner 405CX, however it is not far behind and at 25% cheaper is great value for money.
Garmin have long been leaders in the field of GPS watches, a somewhat overlooked use of the Global Positioning System that is rapidly gaining in popularity. The Forerunner 405 is one of Garmin's latest offerings and the first thing which is noticeable is the size of the watch, which is similar to a regular running watch in contrast to its rather chunky rivals, which can at times look like small bricks on your wrist.
The Forerunner 405 is available in either Green or Black and can be purchased either with or without a wireless heart rate monitor (HRM), with the inclusion of a HRM costing around £20 more. In our view, this extra money is well worth spending as it transforms your GPS watch into a proper personal coach. Both models come with the somewhat strangely named ANT+ stick which is one of Garmin's gems.
The ANT is a USB stick look a like which wirelessly transfers data to your computer whenever your Forerunner is within range of it. This means that, without any effort on your part, your computer is constantly up to date with details of your latest training runs, allowing for quick and easy analysis.
The 405 comes with a touch sensitive bezel which is a feature which tends to split the opinion of users. Similar in style to the way an ipod works, the bezel eliminates several buttons which allows for the watch to be smaller than its competitors. However, there have been some complaints that the bezel doesn't work very well in the wet and can be tricky to operate when in the middle of a run. In our view, these complaints are overblown. The wet issue can be overcome by locking the bezel and we tend to train with the watch in rotate mode so that it moves through each of the functions every couple of seconds. In this way we have no need to touch the watch while we are running.  The following video from the Garmin team gives a quick run down of the main features of the 405.
One issue which plagues earlier GPS watches was the length of time it could take to get a satellite lock. Garmin have addressed this with the Forerunner 405 which obtains a fix significantly more quickly than the older Forerunner 305. Once the satellite lock has been obtained the watch is a breeze to use. Most people se the training mode for their runs and all that is required is a press of the stop/start button and your Garmin starts collecting data about your run. If the watch is being used in conjunction with any of the various add ons (see below) such as the HRM, footpod or bike sensor these are automatically connected to the 405 with no user intervention necessary.
Garmin Forerunner 405 Software
There are two alternative software options for the 405, the first is a web based interface known as Garmin Connect which can be accessed from any computer. The second is a desktop application which is know as the Garmin Training Centre. Both provide similar information on the basic GPS watch readings, including heart rate (with the HRM), pace, elevation and pedal cadence (with the bike sensor), although the Training Centre provides more graphs and cross referencing of the data.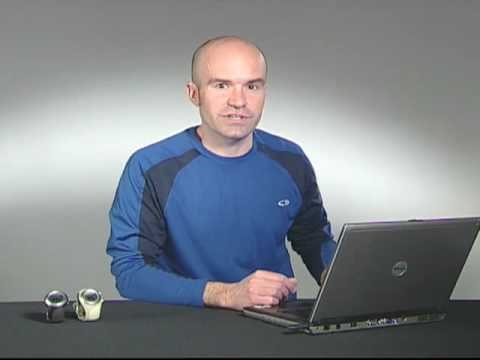 By contrast, Garmin Connect plugs directly into Google Maps, allowing you to map out your run. A great feature particularly if you do an unfamiliar run. Personally, we use both software options to get the access to the full functionality of both Garmin Connect and the Training Centre.
One feature of the Forerunner 405 that we love is the virtual partner feature. This allows you to compete against an imaginary friend, or real friend if they also own a Garmin GPS watch, with the Forerunner telling you were you are in relation to your virtual partner during your run. This is an often used feature in our office when we swap information on our runs and try and beat each others PBs.
Garmin Forerunner 405 Accessories
There are a number of Garmin add ons which can be purchased in conjunction with the 405, including a foot pod (cost approximately £40 Compare Prices) and a GSC 10, Speed/Cadence sensor, which also costs around £40 (Compare Prices). The Garmin foot pod is for use indoors, for example on a treadmill, or in areas where a GPS is not available and provides distance and speed based on the motion of your feet. This data is wirelessly fed back to your Forerunner 405 where it displayed instantly. The GSC 10 tracks your bike speed and pedalling cadence, again wirelessly providing instant feedback on this to your Garmin GPS watch, allowing you to quickly adjust your pedal strokes per minute for optimum performance.
In Summary
Best for serious runners who want to constantly push their Personal Bests.  Not the best watch for the infrequent recreational runners who would be better looking at a Forerunner 305 or even a Forerunner 205 if a heart rate monitor is not required.